We offer more than you think!
Stationery
From sticky tape and printer paper to envelopes, jiffy bags, packaging materials and cartons, files and toner cartridges, we stock a wide range of stationery at competitive prices.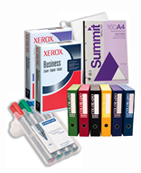 Storage
If you're between courses or going off travelling over the summer, let us store your stuff for you. We collect from your campus on a regular basis, or you can drop off your belongings yourself. Our storage rates are very reasonable, and you can be sure everything will be safe while you're away.